Well Cole's room is finally done!
Only took me the full 2 weeks!
We were pulling an Extreme Makeover Home Edition, putting stuff away as he is comming home! But It turned out great. We had him close his eyes before he walked in and when he opened them he said, "WOW. This is awsome!" love my little guy!
I am quite pleased with how it turned out too. I have some really cute airplane fabric that I am gonna make him a quilt cover out of for his bed and a matching window treatment. Just gotta find the time to do it!
So after neglecting the housework for 2 weeks while I have been doing this, and after having 10 boys at our house on saturday for almost 8 hours for Alec's b-day, well the house is a mess. carpet is in serious need of the steam cleaner. (took the day off on sunday because I was too exhausted after saturday's marathon b-day party and baseball game that night) So far I have gotten the kitchen cleaned and done about 5 loads of laundry. I really want to sit down and do something besides cleaning or laundry. I have a bunch of projects in the planning stages. I got some really neat vintage patterns that i want to use. I was at my new favorite store last week
http://www.quilthaus.com/
and got some really cute fabric. I found some totally cute Amy Butler fabric & some other vintage looking fabric that was on the clearence table! got 2 yards for like $5!
Speaking of Ms. Butler, has anyone seen the cute totes from her at Hobby Lobby?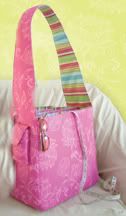 They are ADORBALE! $39 a piece. made out of her cute fabric. I think I gotta get one!
Well, I gotta get back to the laundry. It was nice to take a break and post. I know It's been a while!
back again soon!