In my work room now...
Ribbons & Flowers. I keep them in cleaned jars from peanut butter, spag. sauce etc. I started painting lids but I need more jars and plan on getting the nice ones from hobby lobby as they go on sale.
The little tin box I got from Target's dollar spot. I have 3 & LOVE them! too cute and perfect for holding little odds and ends.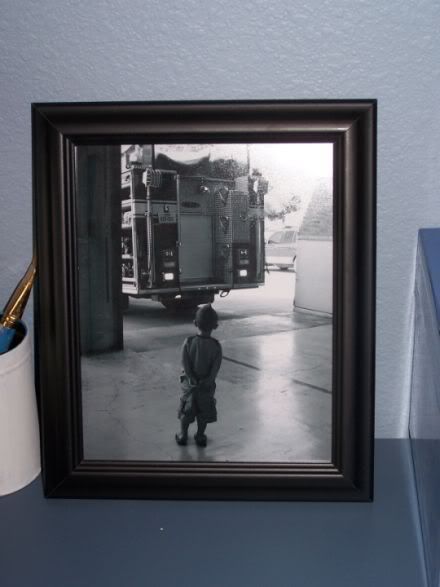 This picture of Cole I took last year when we went to the firestation. It's framed & I need to take it down to the firestation office. I just haven't had the time. For the time being it sits on my little side table.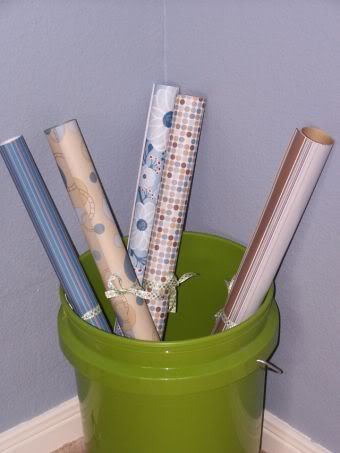 BIG paper!! I love it! It's perfect for doing altered projects, covering albums etc. These were my most recent purchases. I roll them up, tie with some ribbon and they finally have a home in this green bucket I got from Walmart. (better than rolling around on the top shelf of my closet)
Oh, and the room is clean!
The sad little card table is where I work currently. Untill I can get my countertops from Ikea. Tho it has been so long, I am starting to re-think what I had planned...
The guest bed. It was given to us by my grandma when we moved. It was taking up space in her garage and she had no use for it. It's a metal frame, used to be white, but wasn't really pretty looking. (lots of chips in the paint, marks all over it) I spent a week last summer re-finishing it. Sanding it and spray painting it with some black textured spray paint. It looks and feels like wrought iron. The quilt and the pillow I made myself. My first attempt at quilting. It too is NOT pretty, too short for the bed, totally un-even. It's only slightly embarassing. I did it without a pattern or anything.
It's nice to have a clean space to work in. Yesterday Cole wasn't feeling too good, so while i was working on cubscouts stuff and working on our summer calendar he laid down in the guest bed and napped.
So the bed is all ready for a guest! (hint! hint!) you know who you are!!!