BACON WAFFLES!!!
Paula would be so proud!!!
Bacon waffles, something my Grandma Beverly has been making weekend mornings ever since I can remember. It's a special family thing that we cook & ooooh so good!
My grandma has this awsome recipe for waffles, she uses melted butter, a little corn oil, but the thing she does with her waffle batter recipe, she seperates the eggs, whips up the whites seperatly then folds them into the batter. You get these light fluffy waffles, studded with bits of crispy bacon. HEAVEN!
Well this morning I couldn't find the recipe, and really, I don't have a problem with using a mix. Busy moms know that a pancake/waffle mix can be a real helper! There is one mix tho, that I think is better than any other. Please don't argue till you have tasted it.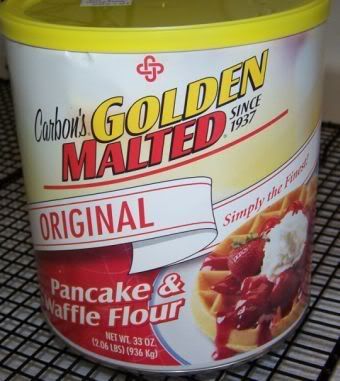 It is so good! Even my kids can taste the difference! The only place I can find it around my town is at Cost Plus World Market. But I am sure if you had a really well stocked grocery store they would have it. It can be a bit steep, This canister (33 oz) set me back $8. But it's worth it. believe me.
Now if you can't find it anyware, I will give you a hint, We use from time to time bisquick, aunte jemima, those kinds of mixes, but I always add a little of this to them: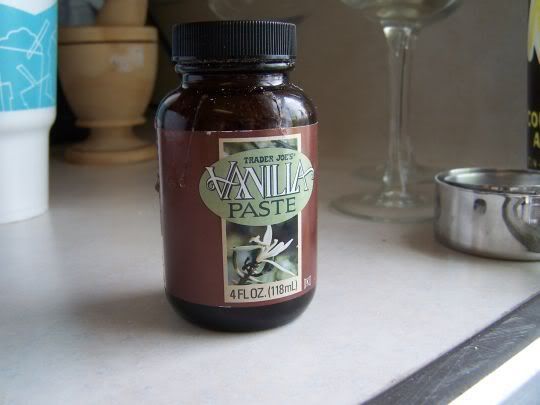 Vanilla Paste. I got this bottle from Trader Joes last time we were in California. It is a wonderful tasting, smelling gooey stuff. I add it to the pancake batter and it gives it wonderful flavor, plus you get those little flecks of vanilla bean, which gives the illusion of home made! Most good grocery stores carry it now. I know I have seen it at Whole Foods and such.
Anyway, back to Bacon Waffles.
Fry up the bacon till it is crispy. After it is cooled to the touch I give it a rough chop with the knife. Pour the batter into the hot iron and sprinkle a generous handful on top and shut the lid. That is it. Bacon Waffles!
Since I was a little girl my grandma and I have always eaten waffles (and pancakes for that matter) with creamy Laura Scudder's peanut butter (has to be Laura Scudders) and Light Karo Syrup. With bacon waffles, espically good!
HEY! Don't knock it till you've tried it!!!
This is a good weekend breakfast. big glass of cold milk, yum!