This kinda helped me get my mojo back. I had bought a couple letters from Michaels, and decided to make this one for my mom. (her last name starts with A). It really didn't take me long at all to make it. I did it during play group. you can't see but the sides are painted green to match the paper. the paper is from Basic Grey Hang 10. I mailed it to her and she loved it.
I have an L that I am gonna do for my self, just have to decide what color to do it in.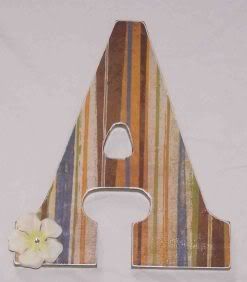 So the to-do list for this lovely Wednesday in July:
Call Dr.'s office to make yearly un-pleasant appt.
Clean downstairs bath (we just put the sink and toilet back in after finally installing the tile)
vacuum dining room/hall area
Clean scrap stuff off the dining room table
The usual kitchen cleaning + sweep and mop floor
Try to restore some sort of order in my office/scrap room (note: need very large trash bags and willingness to get rid of items not used in a long time)
and if all gets done, work on dividers for recipe box I am making for my mom...
Saturday a group of us are going to a crop so I need to make sure I have something to work on when I go!