ok, I have this habit when it comes to my hobby. I will scrap pages and not do the journaling till sometimes months later. (as is perfectly shown in the layouts below).
this is what I did last weekend at the crop I went to.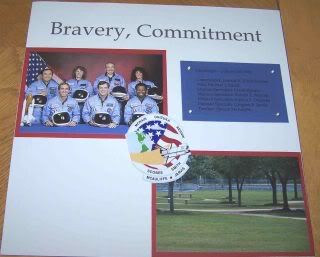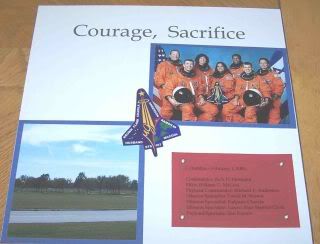 These are gonna round out our trip to the Johnson Space center. the pics in the lower left and right corners are of the memorial on the grounds of the space center dedicated to the men & women of Challenger and Columbia. Still have some journaling to do. I managed to get the names and rankings of each astronaut printed up and put on the page. But at least the title is in place!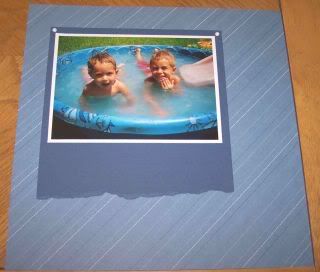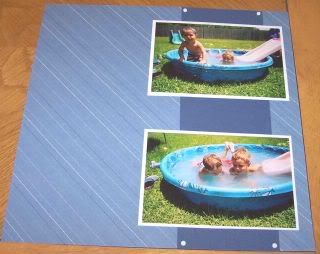 these pics i have had sitting in my photo box for so long, i have been wanting to scrap them, they just kept slipping my mind. of course un-finished, not even a title on this one! still trying to figure that out so any suggestions are greatly appreciated.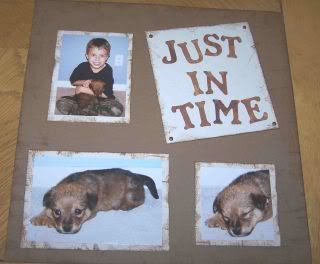 I started the other page to this one, but it had just 2 smaller pics on it and the rest of the page will be telling the story of how Riva came to be a part of our family. How when we took her to the vet she was dying, but managed to live.
And now, today being monday, I probably won't get a chance to scrap till our usual thursday playgroup.
Today's tasks are:
Pay the utility bill
lunch with the boys at gatti's
Clean up kitchen
figure out what to do for dinner
probably have to go to HEB to get something for dinner
go to meat market and get a bone for riva
search for hobby lobby recipt so I can return those 2 punches i bought and never used!
Tommrow is Cole's b-day. we are doing cake after dinner. We will celebrate with all his friends the same day we have Alec's party, which makes it easer on us since we don't have to pay for 2 jump castles, 2 cakes, 2 rounds of food and drink for everyone, 2 sets of decorations well you get the picture. So tommrow I have to go pick up his cake (Sponge Bob. The only non-girly thing that HEB had) and decorate the dining room which means of course that I have to move all my scrap stuff off the table and clean up the room. Great.