This school year flew by so fast. I cannot believe that it is already summer vacation!
today the boys spent most of the day vegging out, watching cartoons. They just came in from playing in the sprinklers in the back yard. Only 1 fight so far between the two of them. I know as the summer progresses this too will progress....
I went to a crop this weekend, got 6 pages done (- the journaling). I haven't snapped pics yet, will do that later.
I also finished the altered lunch box and posted it on ebay last night. I hope it will do well. Last I checked there were 4 people watching it. Hoepfully it will get lots of bids! (yeah!)
here is the front of the box:
And i finished the other card that i couldn't decide on what to do with it.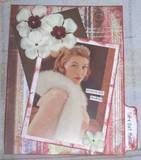 i think it turned out pretty well.
I emailed my mom pics and she wants a recipe box for her and her friend. There is my next project to work on.
I want to try to do some more scrapping today, not sure if i will have time, laundry has been piling up and unfortunately in my house dirty clothes trump completed scrapbook pages.
tomorrow is another day...