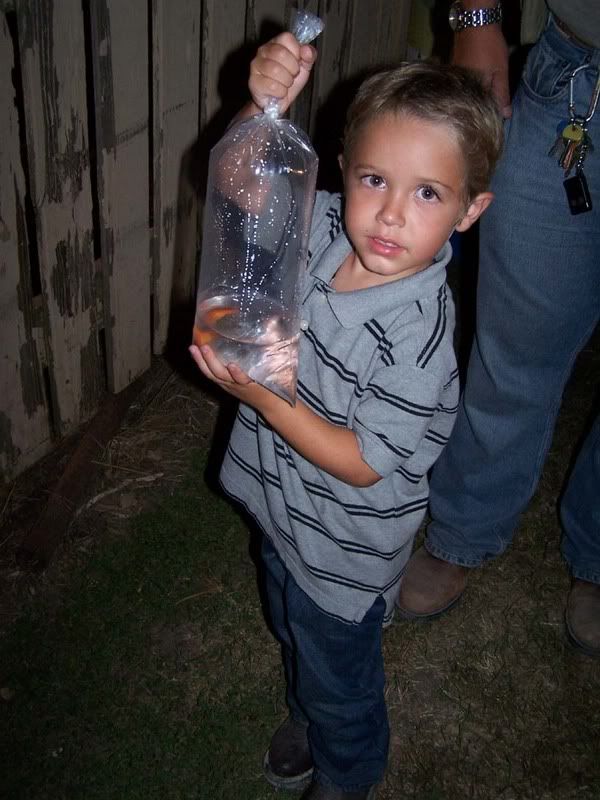 This weekend was the annual Comal County Fair. We went Saturday night (after spending the better part of the day at the San Antonio Zoo) and the boys had a blast. They rode some rides, played some games. Cole even won a goldfish at one of the games. So of course after we left the fair we had to stop by Walmart to get a fish bowl, food, all the fish stuff.
Apparently lots of people won fish at the fair and had the same idea we did (Walmart was completely out of fish bowls) so we improvised and got a big glass jar. Washed it out (of course) and now Cole's fish has a nice home. He named it "Buddy" and with Derek's help, takes care of it.
Another cool thing...
I had decided on a whim to enter a picture I took of Cole in the photography contest/ whatever it is called at a fair. I matted and framed the picture and stood in line Thursday morning (the day before the fair started) for a very LOOONG time to submit it. I really didn't think anything of it. Just thought it would be fun to try. I truly didn't expect to win anything. There were people there with just STACKS of pictures they were submitting. I felt kinda silly with my 1 picture. anywhoo. It turned out pretty good.....
I got second place. :) I was pleased. I am leaving shortly to go pick it up. Later this week I am gonna take it over to the fire station (where the picture was taken) and give it to the firemen to put up in their house. A police man standing behind me in line on thursday helped me come up with a title for it, "The New Recruit". Too cute & fits the picture perfectly. He was submitting pictures of his dogs, dauschands named Chili Dog & Oscar Meyer (weiner dog) They were great pictures too. I think he ended up winning first place in the animal division.
Another cool thing that happened this weekend, well officially today, was the launch of my friend Susan & mine's labor of love...
http://kindermoms.com/
I launched the site last night and announced it to our group last night. So far the response from our current members has been overwhelmingly positive. Everyone loves the site and espically the logo & apparel. EXCITING!
Well, I am off to go get my picture and run a few errands.
Hope everyone had a great weekend!