(I love dancing around the kitchen to that song! It gives my kids a giggle)
Tonight I was in the mood for a big bowl of pasta with homemade tomato sauce. My recipe is pretty easy. I do it quite often on weeknights, the days we are the busiest.
This is a recipe that has been developed over time and has had a few influences. I think now I have it just perfect.
I have always loved pasta and tomato sauce. in Torrance, California whre I grew up there was a great restruant called "Vince's" It was on Hawthorne Blvd. right next to a big car dealership. I can remember it was a real treat for my mom, dad and I to go there for dinner. It was pretty tasty. I don't know if it is still there, or even if the same people own it. But 20 years ago it was a good place to eat. I think this was even the restruant that we saw Charles Bronson, I remember my mom asking him for his autograph. (funny the stuff I remember!)
So, to repeat I have always been a fan of pasta. I didn't really begin to develop a true admiration for it, and venture outside the american-ized versions of spaghetti & meatballs untill I met my step-dad's mom. My step-dad Robert's family is Italian. He origionally from New York, as his parents, Dan & Marie. Both WONDERFUL people. They both passed in recent years, I really miss them. Marie was a FANTASTIC cook! I swear, everything she created was magic. Every christmas she used to make struffoli, these tiny little fritters in a sticky honey sauce. Oh, heaven! She also made some great pasta dishes. I can remember one afternoon hanging out at my step-dad's condo when she and Dan were in town (my mom and he were not married yet) and watching Marie cook. Dan loved to tell stories, and I loved listening to them, but I could watch Marie cook all day. The one afternoon that sticks out in my mind she was making a simple tomato sauce for dinner. Canned tomatoes, garlic, some herbs, I think she may have put some whole sausages in it too. It's not so much the recipe I remembered, it was more the method in which she made it. Her sauce was definatly better than Vince's! I'll have to see if I can get a picture of her from my mom. She was such a fun lady!
Fast forward to last year. I had been working on my tomato sauce for YEARS. Pretty much ever since I got married. I could never get it to taste quite right. One day I am watching Tyler Florence on Food Network. He is making his "Ultimate Spaghetti & Meatballs". The trick to his tomato sauce, using canned San Marzano tomatoes. I had always just used the plain old canned tomatoes I bought from Albertsons, usually the store brand because I never really thought there was a difference.
So I tried his recipe (which btw is FANTASTIC! the best meatballs I have ever had!) and the tomatoes really made all the difference in the world! So now, when I go shopping, I always get a can or 2 of San Marzano tomatoes. I refuse to use anything else. Sure they are more expensive, but TOTALLY worth it!
So tonight we had linguini (only pasta I had left in the pantry) with meat sauce (meat requested by my men lol)
the recipe: (whenever i make this I make a bunch, it's the only way i know how to cook it. you just gotta make a lot, i guess in anticipation of feeding alot of people! In my house it never goes to waste!)
1/2 lb ground sirloin (you can omit this if you want)
1 about baseball sized onion chopped up (i have to do it very small because my kids have a fit if they find a big piece of onion)
3-4 garlic cloves chopped (i used 3 tonight because the cloves i had were HUGE)
salt & pepper
pinch or 2 of crushed red chili flakes (I like a spicer sauce, kids like it milder)
some dried oregano
2 cans of san marzano tomatoes (I slice them in my hand over the pot as I add them, sometimes you get some peel, just discard it)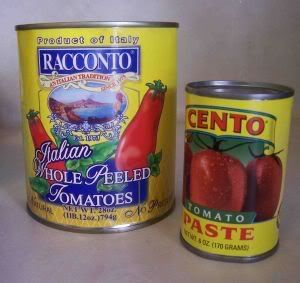 1 little can of tomato paste (i usually add 1/2 to 3/4 of the can)
Some Olive oil
so get a nice big heavy pot, and toss in your ground sirloin. add a little olive oil if you have to, since sirloin does not have alot of fat to it. after it has browned a bit (not all the way) add a little more oil and toss in your onion and garlic and saute till the onion is almost translucent. This is when I add the seasonings, salt & pepper, then the chili flake and oregano. Tonight I was drinking a great bottle of red wine while I was cooking so I tossed a bit of it in the pan after the seasonings and let it bubble away a bit. (not much just a couple tablespoons)
Add your tomatoes (just make sure it says "San Marzano" somewhere on the can) juice and all, and stir. at this point I add the tomato paste a little at a time, stirring till it dissolves in the sauce completely. The tomato sauce I usually play it by ear, see how the sauce is looking, tasting and determine if it needs more.
then i let it simmer, un-covered for about 15 minutes, or till I am ready for it.
And the finished product!
grate a little fresh parmesan cheese over the top. I beg you please, Please PLEASE! Do not use the stuff in the green can! Go to your supermarket's deli section, get a wedge of parmesan cheese (make sure it has a rind!) and grate it freshly. I PROMISE you this really does make a difference in taste. You will never want to go back to the green bottle again! My husband will whole heartedly attest to this fact!
Tonight's music for cooking to was a compilation of Dean Martin & Rosemary Clooney. You just gotta sing a little "That's Amore'!" while you are cooking a good sauce!
Ciao!