French toast. yum. one of my favorite breakfasts. In most restruants it sucks. I love to make it at home, but I rarely have the time, or the perfectly stale bread.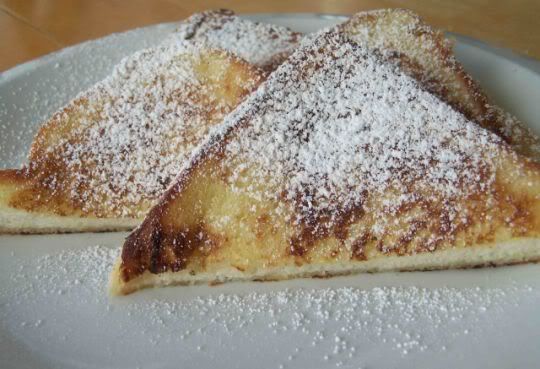 Yes, I make it with stale bread. Trust me, it just tastes better.
So this was breakfast for Cole & I this morning. He likes his with butter and maple syrup. for me, just a sprinkling of powdered sugar.
the way I make it...
Texas Toast, I don't know if you can find it outside of Texas. If not, just get a loaf of good french bread, or sour dough (also really good) slice some pieces and let them sit out over night.
for the custard:
1 egg + 1 egg yolk
few splashes of whole milk
about 1/4 cup sugar
a good pinch of nutmeg & cinnamon
Now I hardly ever have whole milk, today i happened to have a little container of 2% that I used (was left over from our last trip to McDonalds) and it turned out just fine.
Whisk everything together for the custard.
I use a skillet to cook it in, not a griddle. Don't know why. I just do. Today I used some ghee that I had left over from the supper club Indian food night. (I am trying to use it up) But you can use just plain old butter, salted or unsalted, whatever floats your boat.
Dip the bread in the custard on both sides, let the excess drip off and place in the pan. Cook it for about 3 minutes on each side, medium high heat.
& that's it! yummy french toast! (nutmeg makes all the difference. Try to use fresh grated if you can.)