The day is Monday April 30, 2007, time around 11:30. I am searching the isles of my local HEB with a VERY unhappy 3 year old in dire need of a nap. Searching for an idea for dinner tonight. Thursday I made a big pot of pasta that we have been eating almost every day since. And while I do make a killer tomato sauce, If I have to eat one more bowl of it I will scream.
Today I have neither the want nor the energy to cook a time consuming meal. Enchiladas are out. Schnitzel is out. It's too late to start a brisket. What to do… what to do…
Inspiration finally comes in the form of a bright yellow sign that reads "Whole Chickens .67 cents per pound" Perfect! a roast chicken! I grab the biggest chicken I can find and double time to the checkout.
Fast forward to 4:30 pm. Alec has finished his homework and is playing with Cole upstairs. I get settled into making dinner.
Roasting is one of the simplest things you can do. The least time consuming, and for me the most satisfying. If you don't have it already I highly recommend the book, "Roasting, a simple art" by Barbara Kafka (one of my favorite cook book authors). No home cook should be without this book. It's fantastic.
So anyway, back to the prep.
First I open a bottle of wine & pour a glass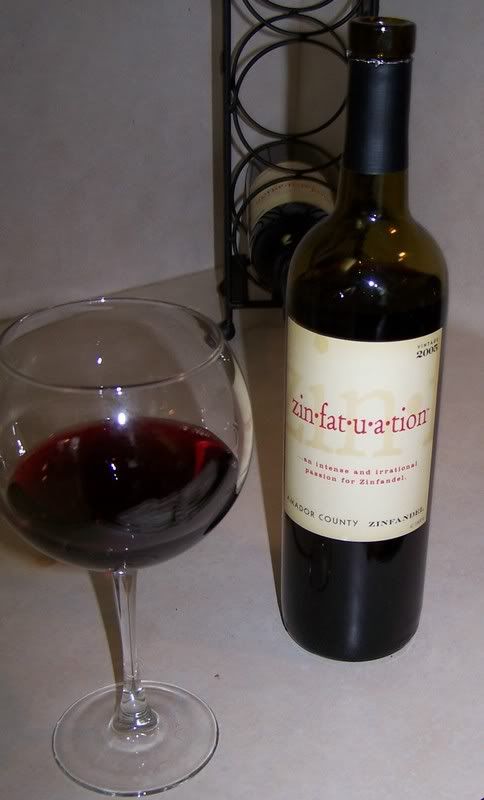 my friend Tara introduced me to this wine at our last supper club dinner. For under $10 a bottle it is very good!
and turn on some music, tonight is a compilation of Michael Buble songs that I arranged on Itunes.
And now down to business.
The chicken has been taken out of the packaging; offal removed from the cavity and has been cleaned. It is at room temp. now (to ensure even cooking).
This is my version of Sage & Onion Roast Chicken.
you will need:
1 medium onion cut into fourths
handful of garlic cloves, give them a good bash
salt and pepper
Dried sage (or fresh if you happen to have any)
olive oil
a few strips of bacon
a few white skinned potatoes (or you can use red skinned if you prefer) cut into bite sized pieces, skin & all.
I take the chicken and sprinkle the cavity generously with the salt and pepper and dried sage. Inside I stuff half the onion and a couple of the bashed garlic cloves. The outside of the chicken also get a good sprinkling of salt, pepper and dried sage. I stuff some under the skin on the breast meat too. next I give the chicken a nice massage of olive oil (not too much) and place the bacon slices on top of the breast meat.
in the pan I toss the potatoes and the rest of the onion (break it up a bit) and the garlic.
The pan goes into a preheated 425 degree oven. I have one of those electronic probe thermometers that you can set to beep at a certain temp. I set the temp for 190, the probe goes into the thickest part of the thigh (make sure you don't touch bone or you will get inaccurate readings) the cooking took a little over 45 minutes.
here is my little bird before he went into the oven, feet first of course.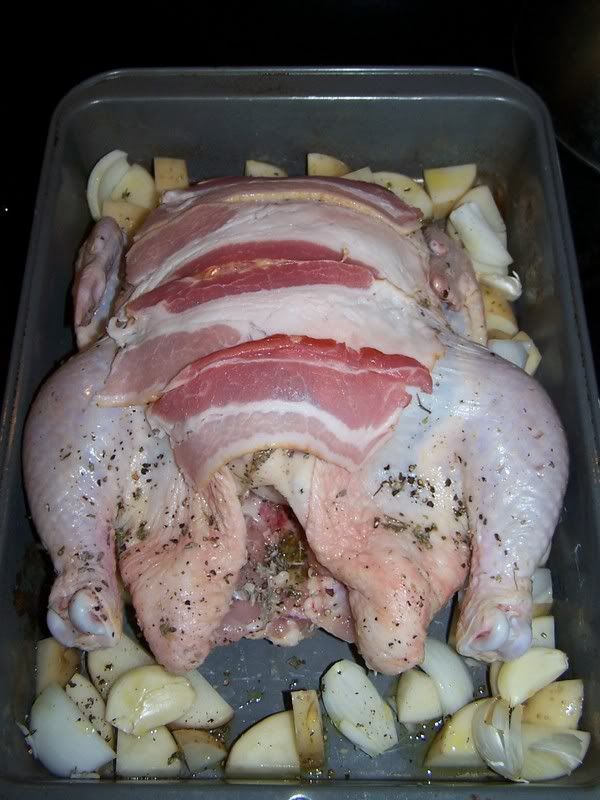 When Derek gets home around 5:30 and the smells are permeating the house.
I wish I had a picture of the finished product, but alas, after resting for about 10 minutes, it was already getting picked at. By the end of the meal there was nothing left but the carcass. (and I am ok with that!)
& by the way, the potatoes, onions and garlic in the pan, don't forget about those! The potatoes are delicious!! The onions caramelize giving them a mellow flavor and the garlic turns into these sweet little nuggets, ah! this is heaven on a plate for me!
Roasting chicken is probably one of the simplest dishes you can prepare. There are so many things you can do with chicken, take a lemon cut in half and stick it in the cavity with some garlic and fresh rosemary, or if you can find pomegranate molasses, that is wonderful to baste on the chicken. Apples and chicken also go well together, stuff some pieces of green apple in the cavity with some onion and baste in a mixture of chicken stock, melted butter and apple brandy. a very luxurious tasting dish!
So now you have some ideas for roast chicken. Next time you are at the store get a few whole chickens and try your hand at roasting. It's simple and easy for us busy moms!