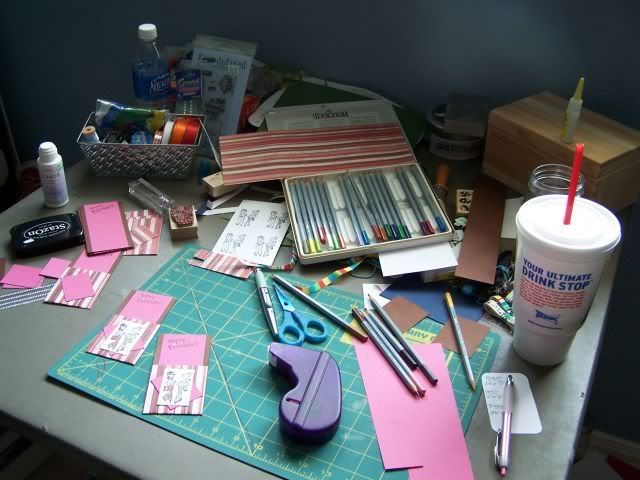 LOL, or create anyway!
The folding table is only till I can get over to Ikea and get my table tops for Derek to install. (it's about a 2 hour drive and every time i call to check they are out of stock)
I took this picture yesterday afternoon. This is pretty much how it looks. If I am working on a projct and have to stop in the middle of it, I leave everything out. If I put it all away I'd loose my place & that is frusterating. some of my stuff....
My blue cutterbee scissors, they are my bad pair, these are kinda dull and sticky with adhesive. I can't find my good pair.
Hermafix tabs, the love/hate relationship. I really don't like them. But I haven't been able to find any other adhesive that works better. I want an ATG gun, but there are no local stores that sell them & I am still deciding on if I can deal with the extra bulk.
Colored pencils, they are from Derek. He is an artist too. He draws some AMAZING pictures. I really think that he could take his portfolio to a tattoo shop & sell the designs. They are awsome! anyway these colored pencils are great. I swiped them a while ago and use them on my stuff.
The Sonic cup is always present when I am creating. I need the good ice! lol. My drink changes depending on my mood. It goes from plain Coke or Dr. Pepper to Cherry Vanilla Coke/Dr. Pepper, or Cherry Limeade, or Sonic Sunrise (if you have never tried it, OMG! It's SO GOOD!) Some scrappers need chocolate, I need Sonic LOL. The Aquafina bottle is not just for show, It's my other drinking addiction (besides the Sonic). I buy it weekly buy the case. I'm the only one who drinks it. Can't stand the taste of tap water, Aquafina I could drink gallons of. But it's got to be room temp, can't stand it when it is super cold.
Stamps/inks, love my scramandu stamps. they find their way to my table alot. I have been loving my stazon black inpad lately too. it never fails to give me perfect images. I do have some acrylic stamps, but I am a traditionalist, I love my wood mounted ones. I have a steralite box full of them.
Ribbon, it's always out, even if i am not using it.
My little bottle of thick C.A. glue (yellow top sitting on the wood box) another item that my dearest has introduced me to. Works WAAAAY better than E6000, espically for adhering metal. I always use it on my altered projects.
& What you can't see, or hear is my computer, Itunes is playing one of my favorite playlists. I named it "Classiscs" & it consists of songs from Dean Martin, Frank Sinatra, Rosemary Clooney, Sam Cooke, Bobby Darin, Michael Buble (he is a bit younger than the afore mentioned, but his voice is very reminiscent of Sinatra in my opinion. he has earned a spot on this playlist), All who seem to keep me inspired.
Hope everyone is having a great weekend!